Reasons Why the 2017 Jeep Cherokee Trailhawk is the Best Mid Sized Off-Roading SUV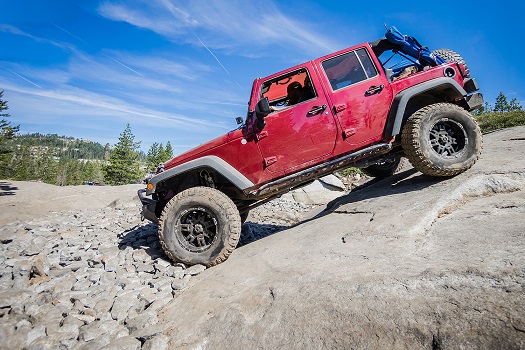 A premium roomy cabin
The front and rear seats of this car are wrapped in plush leather. The front bucket seats are both cooled and heated and feature power controls for the driver. This SUV also features the premium UConnect 8.4 infotainment system and a heated leather steering wheel with controls for the driver information display. With plenty of space, heated and cooled front seats, one of the best infotainment systems and leather throughout the cabin, this car doesn't leave you wishing for much.  Whether you're seated in one of the rear outboard seating positions or one of the front bucket seats, you will find plenty of space in every direction. This SUV can even be a great carpool vehicle because even taller passengers will be able to sit comfortably. With a slight reduction in rear cargo space and rear seating space, the smaller Jeep Cherokee doesn't require much compromise from its bigger counterpart. 
Pentastar Power
The standard engine in this SUV is the TigerShark 2.4L 4-cylinder with
171lb-ft of torque and 184 HP. Buyers can even opt for the 3.2L Pentastar V6 for a lower price. The newer version of the Pentastar delivers 239lb-ft of torque and 271 HP, which makes this SUV surprisingly peppy. The larger engine makes this car much better for daily driving through rush hour traffic since the added power makes this Jeep far more willing to climb up to highway speeds and far more responsive.  When playing off-road, the Pentastar power proves to be more crucial since it allows for greater mudding and hill-climbing abilities. 
A Great Off-Roading Mid Size SUV
This Jeep Cherokee is one of the most popular off-roaders. Of course, there are more extreme off-roader rides on the market today. For instance, if you're looking for a car that you can drive in almost any condition, the Jeep Wrangler is better. But, the Wrangler lacks some of the comfort level and space that you get with the Cherokee- this is also why some people want an off-road-friendly Cherokee when compared to the more hardcore Wrangler.
The Cherokee Trailhawk uses the four-wheel-drive setup and the unique off-road suspension setup to drive to the head of the midsize off-roader segment. On roads where the drivers need to drive very slowly to avoid losing control or bottoming out, the Cherokee Trailhawk handles these drives well. This SUV can also be driven around the marshy footing of a farm! 
Great On-Road Manners
What makes the Cherokee Trailhawk stand out from other SUVs is its on-road drive manners. It offers a highly comfortable ride for daily driving, a smooth ride on paved roads and handles better in every on-road driving situation. For buyers who want a great daily driver that can also go off-road with confidence, the Jeep Cherokee is more appealing. However, this on-road comfort won't matter as much to the crowd that is interested in hardcore off-roading- they wouldn't really mind feeling every little bump on the road! When compared to the other capable options in the mid-size SUV segment, the Jeep Cherokee Trailhawk is a smooth and comfortable ride. It combines road manners with the ability to dig through deep mud and drive through rough roads.